Soundproof Your Doors
Our soundproof door products reduce noise transmission by up to 70%, while providing added thermal control. Our products are designed to reduce noise transmission in residential, commercial and industrial door applications.
Acoustic Timber Doors
To successfully soundproof a door you need to add significant density and ensure all gaps are sealed. We provide acoustic timber door treatments from a basic solid core door with acoustic seals all around rating an Rw30 to supplying an acoustic door complete with door frame, acoustic seals and hardware rating up to an Rw48. We supply to your measurements and can tailor the finish of the acoustic doors.
---
Acoustic Aluminium Sliding Doors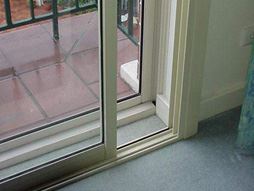 To successfully soundproof your sliding doors you need to have a sufficient gap between your primary door and the edge of your internal door reveal. Often we can extend your existing reveal to achieve the necessary gap between the two. Ideally this gap is 100mm. This will allow an acoustic secondary Soundout Aluminium sliding door to be installed to effectively provide an overall Rw of 42-43db.
The Soundout aluminium door system is a retro-fit glazing system. We create a double glazed system by combining your sliding door and the Soundout sliding door to reduce perceived noise transmission through by up to 70%.
Other features are:
Custom designed to suit all existing applications
Acoustically tested as a secondary glazing unit with 100mm air gap
Able to accommodate up to 10.38mm safety glass
All panels slide for access to outer door for cleaning
Powder coated aluminium
Suited for homes, units, offices, hospitals and other buildings
Easy to install
7 year warranty (excluding glass breakage)
---
Acoustic Doors Seals
Aluminium Acoustic Door seals are easy to install and are adjustable by concealed fixing slots. These multi-blade seals considerably reduce the leakage of any noise and air movement and are primarily used with solid timber doors. The timber Acoustic Door seal when installed on a timber jamb can be painted to blend in with the door opening.
Contact us today for more information or please enter your requirements for an online quotation.
---
Technical Specifications
Door seals for 35mm solid core door test
Door seals for 40mm solid core door test
Acoustic sealing system for door assemblies