Sound Absorbers
Noise reverberation is a concern in many homes, restaurants, gyms, open plan offices, sound studios, outdoor areas and many more, where hard surfaces often prevail.
Methods of reducing this intrusive noise can be as simple as adding acoustic-absorbent panels or foam tiles to the walls and/or ceilings.
We have access to a range of sound absorbers that we can recommend depending on the environment and degree of reverberation that is occurring in that space.
Below is a list of the sound absorbers that may suitable for you.
---
Stratocell Whisper®
Stratocell Whisper® is a unique highly effective sound absorption closed cell polyethylene foam. Used in both outdoor & indoor applications to reduce noise reverberation on road barriers and fences and in industrial applications such as heavy machinery & air-conditioning units.
---
Fabric Covered Wall Panels
Our fabric covered wall panels absorb, direct and reflect reverberant sounds as well as add an attractive finish to your room's interior.
---
Echohush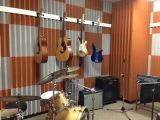 Echohush Profile panels are specially custom-painted combustion modified acoustic foam panels that reduce noise levels in high-energy spaces such as cafes and bars, and improve voice clarity in key communication rooms. The panels are 600 x 600 in size.
---
Plano Bevel Acoustic Tiles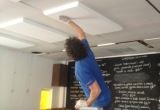 These melamine foam tiles are very effective at reducing sound distortion by absorbing reverberant noise within a room. The tiles are group one fire rated so they can be used safely in all public places and are easy to install using paintable or multi-purpose silicone.
---
Reapor
Reapor is a recycled glass product and is ideally suited when direct and reflective sounds are a problem. Reapor is excellent for high fire safety areas, tunnels, vent shafts and exits, machinery enclosures, schools, hospital, aged care and wet areas such as car washes.
---
Sonex Grey Acoustic Foam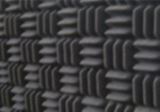 Sonex sound absorbing acoustic foam panels are ideal for absorbing sounds in numerous environments including home and professional recording studios, schools and laboratories.
For a free quotation contact us via our Free Online Quote form.
---
Technical Specifications