Double Glazed Soundproof Windows
Reduce noise by double glazing existing windows
Our double glazing solutions can significantly reduce noise as well as improving the thermal insulation within your home or office.
Soundblock Solutions' double glazed systems work by creating an air gap between your existing windows and our magnetic retrofit product or acoustic aluminium window system.
Our magnetic double glazed window product has been tested by a NATA (National Association of Testing Authorities, Australia) laboratory and has confirmed that when an existing window is retrofitted with the appropriate Soundblock® configuration, its sound attenuation performance will be dramatically improved.
Let us help you create a comfortable home or work environment.
Read more about the features and benefits of double glazing
---
Hearing is believing
Hear for yourself how much difference double glazed windows can make to your home, apartment or office.
Service Locations within Australia
Soundblock Solutions provides the supply, service and installation of double glazed secondary soundproof windows to the following capital cities within Australia:
Sydney (New South Wales)
Melbourne (Victoria)
Adelaide (South Australia)
Perth (Western Australia)
Supply only is available Australia wide.
If you would like a quotation for double glazed windows contact us via our Free Online Quote form. One of our our consultants will be in touch and can arrange a site visit (if required) to assist you with your double glazing solution.
---
Double Glazing Products
Acoustic Aluminium Window Double Glazing System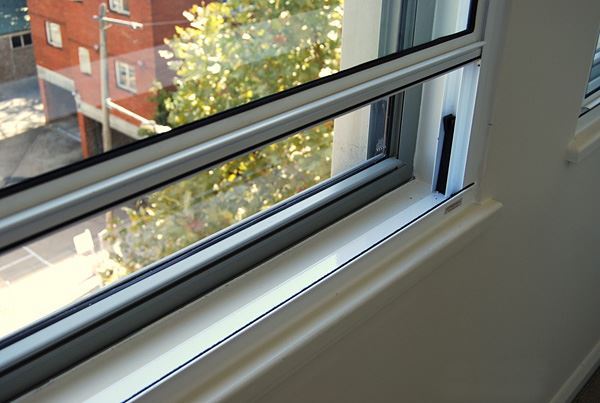 Our retrofitted Soundout Acoustic Aluminium double glazed windows provide a secondary glazing system designed to reduce external noise transmission through existing windows by up to 70% as well it providing a thermal insulation barrier. They can be specially manufactured to suit different existing window sizes.
Read more about Acoustic Aluminium Double Glazed Windows
Magnetic Acrylic Windows Double Glazing System
Double glaze your windows by retrofitting an internal acrylic window placed and held on a PVC sub frame by a continuous magnetic strip set into a PVC channel.The Soundblock® Magnetic Window System has been tested by a NATA registered laboratory. They have measured the magnitude of improvement that Soundblock® can provide when used in conjunction with a conventional open-able sliding window.
Read more about Magnetic Acrylic Double Glazed Windows
---
Retrofit Double Glazed Window Installation
To successfully soundproof your windows you will need to have a sufficient distance between your primary window and the edge of your internal window reveal. Ideally this gap is 100mm. This will allow an acoustic secondary window, either our Soundout Aluminium window or Soundblock Acrylic Magnetic window, to be installed to effectively to provide an overall window system rating of approximately Rw40-43db depending on your primary window type and condition.
Read more about Double Glazing Installation
---
Benefits
Noise Reduction
Most residential and work environments are affected by some sort of environmental noise. The extent of the noisy environment depends on the source of the noise, the distance from the noise and its frequency. Common noise sources include road traffic, construction, airports/planes and heavy or industrial/manufacturing machinery. Being surrounded by constant noise can affect your health and well-being and a noisy work environment can result in poor concentration levels which result in a loss in productivity.
Read more about sound and noise
Temperature Control/Thermal Insulation
Traditional window glazing consists of a single sheet of glass within your window sash allowing heat and cold direct transfer. Soundblocks Double Glazed Windows Systems establish an air filled gap break between the inside and outside of the window thermally insulating your building from the outside elements reducing energy costs.
Read more about the benefits of double glazing thermal insulation