Soundproof Your Floors
I

mpact and Noise Insulation
Impact noise is a major problem on floors particularly in residential units as overhead footsteps are transmitted to the unit below.
There are various soundproofing methods to significantly reduce this impact noise and the selection of sound proof materials depends on the type of floor - slate, timber, tiles, carpet etc.
Acoustic underlay can be installed at build stage when planning a new home or commercial building or as a retro-fit solution.
How to Soundproof your Floors
To successfully soundproof a floor you need to add a layer of acoustic underlay to isolate and block BOTH the impact and airborne noise.
There are only a few products on the market that are able to do both and our Soundblock Solutions consultants will be able to recommend the best options for you.
Depending on your subfloor type (eg Timber or Concrete) and the finished floor material (eg Tiles, Hardwood, Floating timber or Carpet) our solution will vary.
When requesting a quote from us let us know both your subfloor type & finished floor material, and we can recommend the best options to minimise noise transfer.
When installing hardwood or tiles do not allow them to touch the wall or skirting boards in the final installation as this will allow noise to structurally transmit down the walls.
Contact us today for more information or please enter your requirements for an online quotation.
---
Technical Specifications
Silent Step Acoustic Carpet Underlay
CSIRO Summary of AcoustaMat Test Results
Impact Panel Installation Instructions
---

AcoustaMat 850RG Density
The "RG" in AcoustaMat 850RG stands for "re-grind", a rubber by-product of the manufacturing process of our rubber products. By using a percentage (approx. 30%) of re-grind rubber in our AcoustaMat, we are ensuring no rubber ever goes to waste from our manufacturing facility. Testing has confirmed that our 850 density rubber underlay is just effective as similar cork or rubber combinations and while cork and rubber may be more recognised by the industry, we recommend re-grind underlay where possible for greater environmental responsibility. By using our re-grind underlay, you are also supporting the environment and ensuring that none of our products end up in landfill.
Using many variations of timber flooring, our recommendation is AcoustaMat 850RG, as an underlay with high acoustic and vibration performance. Acoustamat 850RG can be laid under carpet, vinyl, floating timber and tiles.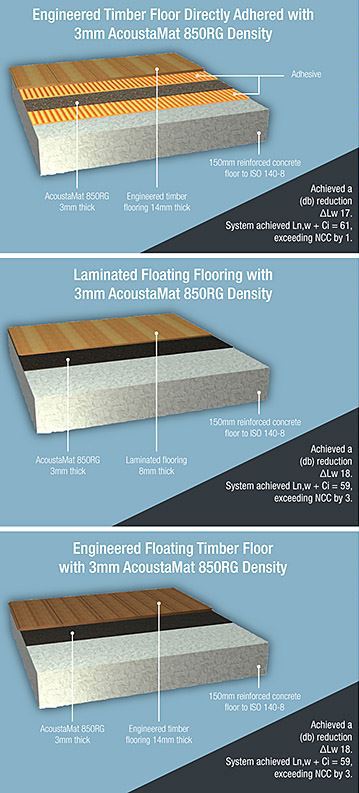 ---

---
Silent Step
Silent Step is a new generation of acoustic carpet underlay, comprising a flexible mass-loaded barrier, fused onto a high density premium foam underlay. The combination of these two products allows Silentstep to reduce the transmission of footfall and impact-generated noise.
Silentstep was developed to meet market noise reduction requirements in multi-storey living, commercial, automotive and marine markets.
Easy to cut and lay, it offers excellent support and a firm cushioned base for all types of carpet applications.
It is ideally suited for lightweight flooring constructions such as timber and marine applications where fibreglass and composite floor panels are used.
When laying carpet over a floor constructed using lightweight timber and joists, typical standard underlay offers little effect in reducing the transmission of footfall and impact noise.
Silentstep isolates the barrier layer from the floor structure, increasing the performance of the floor system between two rooms.
This feature means that critical frequencies generated during speech and electronic audio technologies such as radio and television etc can be reduced.