Soundproof Floors
I

mpact and Noise Insulation
Impact noise is a major problem with floors even where carpet is installed. This can be a noise problem particularly in residential units as overhead footsteps are transmitted as noise to the unit below.
There are various soundproofing methods to significantly reduce this impact noise and the selection of sound proof materials depends on the type of floor - slate, timber, tiles, carpet etc.
Acoustic underlay can be installed at build stage when planning a new home or commercial building or as a retro-fit solution.
How to Soundproof your Floors
To successfully soundproof a floor you need to add a layer of acoustic underlay to isolate and block both the impact and airborne noise. This result cannot be achieved with all impact noise products. Very few are able to do both.
Depending on your subfloor type (eg Timber or Concrete) and the finished floor material (eg Tiles, Hardwood, Floating timber or Carpet) our solution will vary. If you can advise us of both, we can recommend the best options to minimise noise transfer via the floor.
Please note it is very important that you do not allow Hardwood or Tiles to touch the wall or skirting boards in the final installation as this will allow noise to structurally transmit down the walls.
---
Technical Specifications
CSIRO Summary of AcoustaMat Test Results
Impact Panel Installation Instructions
Silent Step Acoustic Carpet Underlay

---
Ceramic Tiles
AcoustaMat 700 Density
AcoustaMat 700 density is suited for ceramic installations where a screed bed is required over the acoustic underlay. The 700 density AcoustaMat is 100% recycled tyre rubber, which bears higher elasticity at a lower density which allows for better attenuation in this application over higher density underlays.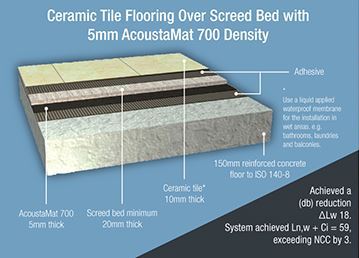 ---
AcoustaMat 720 Density - Cork & Rubber
AcoustaMat 720 density cork and rubber is the underlay that should be used in ceramic applications where the ceramics are adhered directly to the underlay. In ceramics it is paramount that there is minimal flex in the floor, which a 100% rubber underlay cannot guarantee. The cork in this underlay provides crucial stabilising piers, to ensure cracking does not occur.
---
Timber Flooring
AcoustaMat 720 Density - Cork & Rubber
AcoustaMat 720 density cork and rubber for engineered timber floors is made up of a combination or recycled rubber and cork. Rubber and cork compounds are one of the oldest and most recognised acoustic products on the market, introduced over 50 years ago. As a result it has become a leading product for use in applications where timber flooring is directly adhered. Our 720 density cork and rubber is manufactured with a higher percentage of real rubber providing better impact noise and vibration dampening performance.